Truly Hard Seltzer Flavors False Ad Class Action Lawsuit Overview: 
Who:

Consumers lodged a class action lawsuit against The Boston Beer Company, Inc. 

Why:

The plaintiffs allege Boston Beer Company falsely advertised Truly Hard Seltzer  flavors, misleading consumers into believing the alcoholic beverages contain actual fruit. 

Where:

The class action lawsuit was filed in California federal court. 
---
The Boston Beer Company uses misleading imagery and labeling to falsely advertise Truly Hard Seltzer flavors — duping consumers into thinking they contain fruit, a new class action lawsuit alleges. 
Lead plaintiffs Tatiana Galvez and James Kelly allege Boston Beer Company is misleading consumers, specifically, about the ingredients in its Truly Black Cherry Hard Seltzer flavor. Galvez and Kelly want to represent nationwide, California, and New York Classes of consumers. 
Galvez and Kelly claim Truly Black Cherry Hard Seltzer does not contain any black cherry, but instead gets its taste from "lab synthesized ingredients." 
Consumers Truly Believe Fruit in Truly Hard Seltzer Flavors
The Food Drug & Cosmetic Act defines "natural flavor" as anything that can be extracted from an animal or plant source, meaning it isn't man-made, point out the plaintiffs and Boston Beer Company is deceiving customers and violating the law by failing to both include black cherry in its formulation and clearly indicate it is simply a "flavored" beverage.
Plaintiff Galvez says she truly believed she was drinking beverages that contained the fruit pictured and named on the spiked sparkling water display panels, according to the Truly Hard Seltzer flavors false ad lawsuit.
Galvez and Kelly claim Boston Beer Company is, specifically, in violation of California's Business and Professions Code§ 17200, California's False Advertising Law,  California's Consumers Legal Remedies Act, and New York General Business Laws regarding deceptive acts and practices and false advertising.
Boston Beer Company's misleading advertising helped it sell Truly Hard Seltzer flavors to hundreds of thousands of "unsuspecting consumers," throughout California, New York, and the US, the class action lawsuit alleges.
Plaintiffs are demanding a jury trial and seeking restitution, along with compensatory and punitive damages for themselves and all Class Members. 
Anheuser Busch reached a settlement in April in a similar class action lawsuit filed in Oregon that alleged the company misled consumers byfalsely advertising its Michelob Ultra Hard Seltzer as the first and only organic hard seltzer. 
Do you feel Boston Beer Company intentionally misled consumers about the ingredients in its Truly Hard Seltzer beverages?  Let us know in the comments! 
The plaintiffs are represented by Michael D. Braun of Kuzyk Law, LLP and Jordan L. Lurie and Ari Y. Basser of Pomerantz LLP. 
The Truly Hard Seltzer Flavors False Ad Class Action Lawsuit is Galvez et al v. The Boston Beer Company, Inc., Case No. 3:21-cv-01508, in the U.S. District Court for the Southern District of California. 
There may be litigation in the courts disputing the veracity of the labeling on Truly Hard Seltzer, but it has nothing to do with the 2.38mm tall micro kosher seal on the can indicating it's @KosChertified or lack of "KOSHER CERTIFIED" stamp on its box! 🐗https://t.co/P6ewp50VyI

— KosChertified?® (@KosChertified) September 10, 2021
Truly Hard Seltzer Flavors Falsely Advertised, Says Class Action Lawsuit https://t.co/S1Zvh8IdZq pic.twitter.com/qMs0JjRBvG

— Somicom Multimedia (@Somicom) September 9, 2021
Class Action Alleges Truly Hard Seltzer Is Misleadingly Labeled, Lacks Real Fruit
A proposed class action alleges Truly hard seltzer is falsely and misleadingly labeled in that the drinks do not contain the fruits depicted on the cans but are instead flavored by lab-made ingredients.
The 42-page lawsuit uses the "Black Cherry" Truly hard seltzer as an example, alleging that although the product is "boldly characterize[d]" as "Black Cherry," its taste comes not from real black cherries, but instead entirely from synthetic additives described as "natural flavors." The complaint contends that by "obfuscating" the fact that Truly does not contain real fruit, defendant Boston Beer Company has deceived buyers given they're unaware from the hard seltzer's label that the drink wholly lacks its characterizing flavor ingredient.
"Throughout the applicable class period, Defendant has falsely represented the true nature of its hard seltzers, and as a result of this false and misleading labeling, was able to sell these Products to hundreds of thousands of unsuspecting consumers throughout California, New York and the United States," alleges the case, which was filed in the Southern District of California on August 25.
The lawsuit moreover alleges that Boston Beer Company is well aware of its obligation under federal law to honestly label its Truly products yet has nevertheless chosen not to do so.  Competitors White Claw, Vizzy and Spindrift each understand their duty to consumers, the suit says, and are right in labeling their products with the words "black cherry" or "pineapple" because the hard seltzers actually include the respective fruit juice or fruit juice concentrate.
"As a result of Defendant's unlawful and deceptive conduct, Plaintiff and members of the Class have been harmed," the suit says.
Product labels are key—especially in the hard seltzer game, lawsuit says
Per the case, Truly is among the top three hard seltzer brands nationwide and shares the top of a crowded mountain with White Claw and High Noon Spirits Company. In the hard seltzer market, the way a drink is labeled is an important factor for potential buyers, and purchasing decisions are increasingly based on knowing and understanding what ingredients are being used, the suit relays. According to the complaint, Truly sits in second place as far as hard seltzer sales go, excelling thanks in part to its "marketing of a healthier choice, clean label product."
Indeed, the suit says, the popularity boom of the hard seltzer market can be traced to consumers looking for healthier, "clean label" beverages. The lawsuit alleges, however, that Boston Beer Company, who launched Truly in 2016, has capitalized on the rapid growth of the hard seltzer space by "falsely conveying" to buyers that Truly contains the ingredients emblazoned on its labels.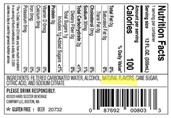 As the case tells it, the story told by the front label of Truly hard seltzers—for instance, the prominent image of four fresh black cherries coinciding with the name "Truly Black Cherry"—differs from the one told by an ingredients list that includes the problematic catch-all term "natural flavors." (More on this below.)
By way of example, despite being labeled and characterized as a black cherry beverage by both name and vignette, the ingredient deck on the back of the Product belies the veracity of the representation on the principal display panel, by confirming that the Product does not contain black cherry in any form, but instead derives its flavor from a multitude of lab synthesized ingredients."
The lawsuit argues that using a name and vignette to characterize a product as containing a certain fruit, even though it does not contain that fruit as an ingredient, is "deceptive, misleading and in violation of state and common laws designed to protect consumers" and promote concise, honest and transparent labeling.
Truly natural flavors? Hardly, lawsuit says
Over the last decade, the term "natural flavor" is near ubiquitous in product ingredients lists. In fact, data cited in the lawsuit from the Environmental Working Group relays that "natural flavor" is the fourth most common ingredient on food labels, behind only salt, water and sugar.
Although "natural flavor" can be defined as anything that's extracted from a plant or animal source, natural flavors are, in application, "complex, highly processed, amalgams of chemicals, carrier solvents, and preservatives," the lawsuit says. The name notwithstanding, a finalized "natural flavor," can contain "as many as 250 chemically identified constituents, some of which are artificial and synthetic" and can account for "80 to 90 percent" of a product's flavor, according to the case.
This is concerning for consumers, including Truly hard seltzer buyers, in that manufacturers have no obligation to be more specific about what makes up the "natural flavors" in their products and are thereby able to obfuscate certain ingredients from disclosure, the suit claims.
"On an ingredient label, 'natural flavor' can be a sort of black box, enclosing dozens of components, including flavor chemicals, flavor modifiers, and solvents, none of which have to be individually disclosed," the suit explains, quoting an article from TheCounter.org. "Many companies will use additives like propylene glycol when they can disguise them under the benign-sounding catchall 'natural flavors'-even if they would reject them as individually listed ingredients."
The Federal Food, Drug & Cosmetic Act, however, broadly regulates the ins and outs of how products sold to the consuming public can be labeled, focusing on ensuring labels can be easily read and understood by the average consumer, the suit says. For instance, the FDCA prohibits the misbranding of any food by way of specific rules regarding direct or indirect representations—including, specifically, depictions of fruit to convey a characterizing flavor.
Although Truly hard seltzer labels bear a "word and/or word and vignette" that characterizes the beverage's primary flavor as "one derived from a single or combination of fruits," the drinks are "entirely devoid" of these ingredients, the case says, contending the defendant has failed to more accurately and legally label the product as "artificially flavored" or "with other natural flavors."
"Under any scenario, Boston Beer has failed to indicate that its Products are flavored—a failure that is in violation of the law and operates as deceit upon consumers," the suit alleges.
Who does the class action cover?
The suit looks to cover all persons in the United States who bought any flavor of Truly hard seltzer, including the following:
Wild Berry
Blueberry & Acai
Raspberry & Lime
Black Cherry
Lime
Grapefruit
Citrus Squeeze
Lemon
Passionfruit
Pineapple
Watermelon & Kiwi
Mango
Peach Mango
Black Raspberry
Separate "subclasses" covering Truly hard seltzer buyers in New York and California have also been proposed.
I buy Truly hard seltzer. How do I join the lawsuit?
There's nothing you need to do at this time to join or otherwise take part in the class action detailed on this page. With most cases, you'll usually only need to act when and if a lawsuit settles. In the event of a settlement, those who are covered by the lawsuit, called "class members," typically will receive notice in the mail or via email to file claims for whatever compensation the court deems appropriate. (Learn more about how they get your information here.)
Given that it's common for a class action to take some time to wend its way through the legal process, usually toward a settlement, dismissal or arbitration outside of court, it's important to stay informed. Sign up for ClassAction.org's free weekly newsletter here.